Equipment introduction
---
This product is suitable for packaging in industries such as food,medicine, facial tissue, tool, electronic and so on; users with hot meltadhesive box gluing requirement, whose products are in large scale andprogressive production which is not suitable for automatic packing withnumerous carton styles requiring frequent style shifting; and is also the bestchoice for food and medicine industries.

Characteristics & advantages
---
1. This equipment is specifically developed for extra small cartons. It combines box sealing, coding and check-weighing, and is also to realize box sealing for cartons with length of 45mm-80mm;
2. Handwheel adjustment is adopted to change size of carton; the shifting among carton specifications during production is simple and easy, requiring a very short time;
3. No assistive devices are required for changing of specification; simple adjustment only can realize box sealing requirement;
4. Use hot melt adhesive which is non-toxic and odorless, satisfying requirements in environmental protection regulations for each industry;
5. Glue spraying process is advanced and flexible; equipment glue spraying adopts man-machine conversational operation system and high precision encoder counting; glue spraying effect can be set as spot-spray, sectional spray and stripe spray; requirement for spraying glue quantity can be changed flexibly according to actual situation of products; the system adopts automatic tracking to fulfill identical response speed and glue spraying precision under different speeds.
6. Setting of box sealing and glue application parameters; the debugging is visualized, so that adjustment of system parameter can be more convenient, modification of equipment operation speed, glue spraying distance, glue spraying length, glue spraying quantity and so on can be modified simply; 60 groups of different product specification parameters can be saved on system interface to reduce unnecessary loss caused by wrong memories or experiences of operators.
7. The equipment has elegant appearance and high safety factor; it is set with emergency stop and photoelectric protection device to avoid injuries caused to personnel during the equipment operation.
Working process
---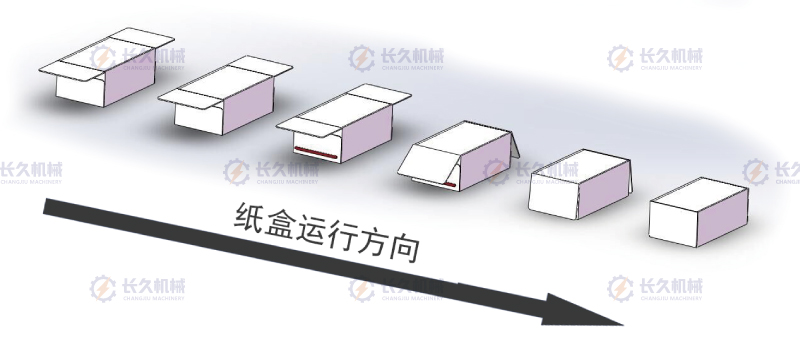 Video demo (Cannot play video please click here)
---
Equipment application case exhibition

---